In order to thoroughly implement Langfang's stable economic policy package,to actively promote the stable and innovative development of foreign trade in Langfang,Organized by Langfang Municipal Bureau of Commerce and hosted by Jiangsu New International Exhibition Group Co., Ltd,2022 Langfang "Multi-country, One Exhibition"Online Trade Promotion Activities(Europe &America Session) was officially launched on October 24,2022. The event includes a 7-month-perid online display and a 5-day-perid matching negotiations.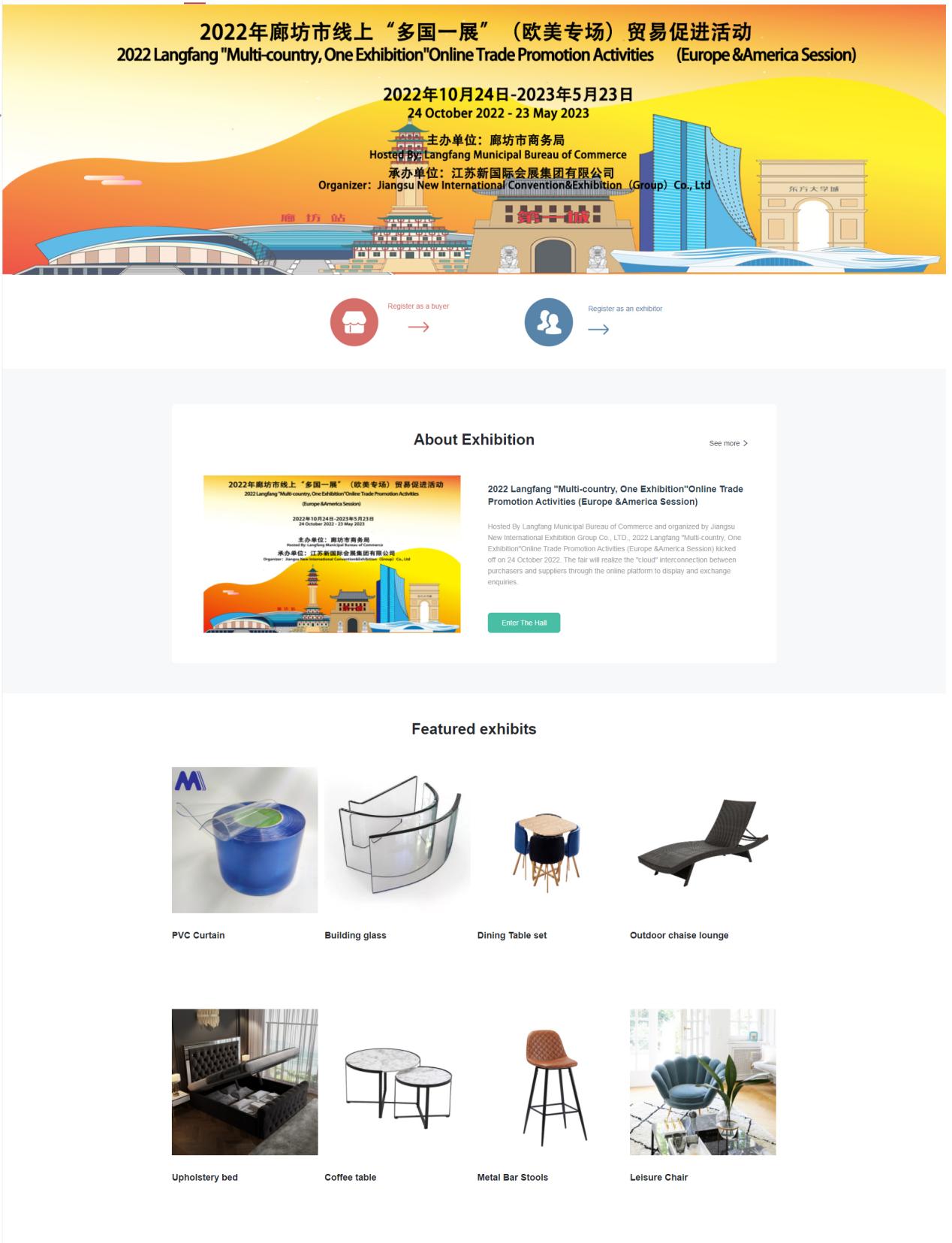 In recent years, the economic and trade cooperation between Langfang and Europe &America countries has shown the characteristics of strong complementarity and gradual diversification, and the cooperation prospect is broad. This online event provided an opportunity for Langfang exhibitors to communicate with foreign buyers online, builds a platform for high-quality foreign trade companies in Langfang who under the epidemic situation when they cannot participate in physical exhibitions. More than 40 Langfang foreign trade enterprises such as Hebei Lejiang Furniture Corp.,ltd,Hebei Booming Furniture Co., Ltd.,LangFang BaiSiNuo Furniture Co., Ltd.,Hebei Aotuan Technology Co., Ltd.,Star-USG Building Materials Co., Ltd.,etc showcase their products via E2xpo platform to establish a directly link with the foreign buyers all over the world. The displaying products are covering the furniture and building materials,main category of export products of Langfang.
The online matchmaking negotiations during November 11-14,2022 was a great success.Nearly 60 oversea buyers from Russia,Iceland,Spain,U.S.A. and other countries were invited to one-to-one meet with Langfang suppliers through the internet cloud video conference.More than 200 rounds of negotiations has been carried out.
At present, all the products of the 2022 Langfang "Multi-country, One Exhibition"Online Trade Promotion Activities can be viewed online. It will bring a positive business relationship between Langfang and Europe &America area with expanding online marketing channels, and improving the export efficiency of Langfang.We welcome buyers from all over the world to check our official link:https://www.e2xpo.com/exhibi/110.
Disclaimer: This article is reproduced from other media. The purpose of reprinting is to convey more information. It does not mean that this website agrees with its views and is responsible for its authenticity, and does not bear any legal responsibility. All resources on this site are collected on the Internet. The purpose of sharing is for everyone's learning and reference only. If there is copyright or intellectual property infringement, please leave us a message.